Grand Rapids Lawn Mowing Service
Perfection Lawn Care provides professional lawn mowing in Grand Rapids, MI. Our top of the line equipment combined with our expertise in the lawn care industry has given us the opportunity for us to make hundreds of lawns in Grand Rapids look amazing throughout the years. We want to be your Grand Rapids lawn mowing partner for life!
What Our Mowing Service Includes
Most of our current clients are on a weekly mowing schedule. Each week our professional lawn mowing crew will mow your lawn, trim around obstacles, and edge all paved surfaces. After this is completed, grass clippings will be blown off  your driveway, walkways, and patios. Each month, a property manager will inspect your lawn to make sure it being serviced properly and will recommend any additional services that will help your lawn look good and grow.
We try to mow a different way each week. This will keep your lawn from becoming matted down. Many lawn mowing companies always mow the same way each week, and as a result their are ruts from the mower following the same mowing lines each week.
Lawn Mowing Pricing
Lawn mowing in Grand Rapids typically starts around $30 per week. We base all of our lawn mowing prices off of the square footage of your lawn. Most of our mowers have a 60″ deck. As a result, we are not able to fit in small gates. We do have several push mowers that can fit in small gates that are 20″ or wider. However, there will be an increase in price if this is the case.
We offer two pricing plans. First, you can pay a seasonal price upfront and recieve a discount. The second option is to pay a monthly set price. We will give you a per-time price, multiply it by the average amount of lawn care visits (27), and divide this total by 6 months to give you a monthly set price for mowing. This makes it easy for you to budget, and makes the billing easy for us.
Other Services that Compliment our Mowing Service
In addition to lawn mowing, we also have the equipment to take care of your leaves in the spring and the fall. Spring and fall cleanup prices are dependent on how many trees you have on your property. Call for a free estimate!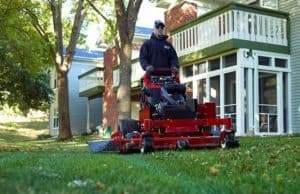 Our Grand Rapids Service Area
Perfection Lawn Care provides Grand Rapids lawn mowing services to the following areas: North East Grand Rapids, Belmont, Ada, Comstock Park, Cascade, and East Grand Rapids and Rockford. If you live in these areas request a lawn mowing quote! We will try and get you a quote within 24 hours.
Unfortunately we do not provide lawn mowing service to the entire Grand Rapids area. However, we have great relationships with other amazing local lawn mowing companies and will gladly refer you to a respected Grand Rapids mowing company upon request.