Grand Rapids Lawn Mowing Service
Perfection Lawn and Pest Control provides professional lawn mowing in Grand Rapids, MI. Our top of the line equipment combined with our expertise in the lawn care industry has given us the opportunity for us to make hundreds of lawns in Grand Rapids look amazing throughout the years. We want to be your Grand Rapids lawn mowing partner for life!
What is included:
Most of our current clients are on a weekly mowing schedule. Each week our professional lawn mowing crew will mow your lawn, trim around obstacles, and edge all paved surfaces. After this is completed, grass clippings will be blown off  your driveway, walkways, and patios.
Lawn Mowing in Grand Rapids, typically starts around $30 per week. We base all of our lawn mowing prices off of the square footage of your lawn. In addition to lawn mowing, we also have the equipment to take care of your leaves in the spring and the fall. Spring and Fall Cleanup prices are dependent on how many trees you have on your property. Call for a free estimate!
But wait there's more!
Each month, a property manager will inspect your lawn to make sure it being serviced properly and will recommend any additional services that will help your lawn look good and grow.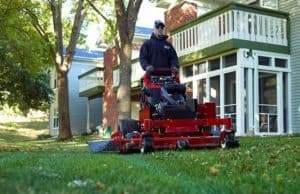 Tips for Lawn Mowing
Although we would love for to hire us for all your lawn mowing needs, we realize that not everyone can afford lawn care services. If this is the case here are a few tips that Perfection Lawn Care implements that will help your keep your lawn looking good. Another lawn mowing guide that we like is found on Lowe's website
Keep Your Blades Sharp
Dull blades will not only make it harder to cut your grass, but it will also harm your grass! Dull blades will tear the blades of grass off instead of cutting it cleanly. If you need a mental picture, picture yourself at the barbershop. Would you rather have the barber cut your hair with a sharp scissors or a dull scissors? Sharp of course! We recommend that you sharpen your lawn mower blades every four mows. We sharpen our lawn mower blades every few days because of the volume of lawns that we cut. 
Don't Cut Too Much Off
It is recommended that you only cut 1/3 of the top of the grass at a time and the lawn to be cut at a length of 3.5 inches. Cutting your grass short (also called scalping) will harm the crown of the grass and it will take a lot of water and nutrients to get it healthy again. Cutting your grass at a longer length will actually make your grass grow slower and use less nutrients which is a win-win solution. Here at Perfection Lawn Care we mow your grass anywhere from 3 inches to 4 inches depending on what we think is healthiest for your lawn. Not all lawns are created equal, and a certified lawn mowing technician will use his best judgement to make your lawn look as good as possible.
DO NOT Bag Your Grass
We cannot emphasize this enough. This is like dumping the fertilizer your just bought at Lowes in the trashcan. When your lawn mower bags your grass instead of mulching it, your lawn is losing valuable nutrients. Grass clippings are 85% water so they will decompose quickly back into the soil which will ad nitrogen to your lawn. We realize that if you do not bag your grass, you could be stuck with clumps all through your lawn. Every time we see clumps in lawns we cut, we go around the entire lawn and blow out every clump we see.
Maintain Your Mower
If you can't afford Perfection Lawn Care to mow your lawn in Grand Rapids, we assume that money is tight. Therefore, it is important that you maintain your mower and extend the life of it. Make sure the oil is changed at least every season. Also after every mowing make sure your mower is cleaned off. Dirt, grass, and grease can plug up your engine making it run hotter, and increasing the chance for your lawn mower engine to blow up. As a final thought, make sure your gas is drained before the cold and snowy Grand Rapids winter hits. Condensation will get into the tank of the mower which will cause it to not work properly. Angies List has a nice lawn mower guide that goes in depth on how to take care of your mower.
Our Grand Rapids Service Area
Perfection Lawn Care provides Grand Rapids lawn mowing services to the following areas: North East Grand Rapids, Belmont, Ada, Comstock Park, Cascade, and East Grand Rapids and Rockford. If you live in these areas request a lawn care quote! We will try and get you a quote within 24 hours.
Unfortunately we do not provide lawn care service to the entire Grand Rapids area. However, we have great relationships with other amazing local lawn care companies and will gladly refer you to a respected Grand Rapids Lawn Care company upon request.